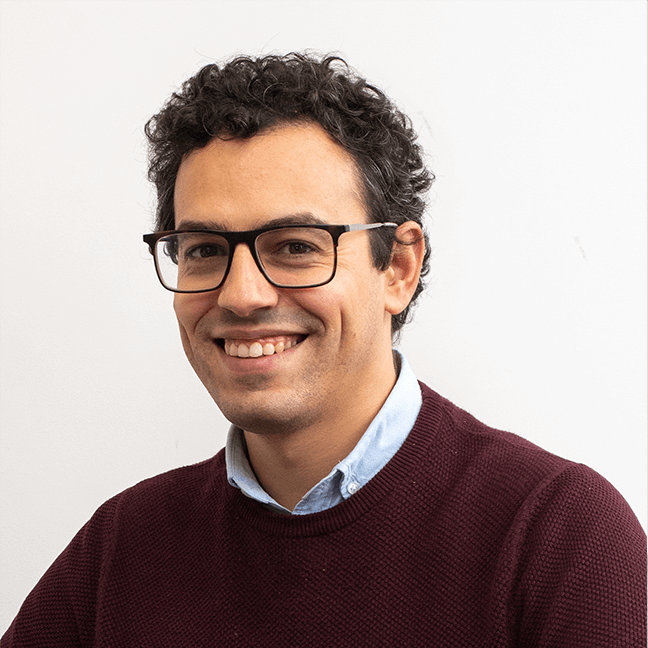 Power BI is an incredible Business Intelligence tool combining powerful analytics with strong data visualization. Microsoft works incessantly on Power BI, adding new capabilities each month, and greatly improving the user experience. Power BI comes in different versions, and the Pro version lets users share data and collaborate. However, while implementing it on our clients' business, we found out that, oftentimes, all they wanted was to have a look at data regularly, leaving the collaboration part to professionals. Since the current version doesn't allow users to share Power BI reports by email with just anyone, we developed a solution to answer this problem.
Introcucing...PowerBI Robots!
Released in February, PowerBI Robots is a Robots Process Automation (RPA) tool that allows users to schedule and send Power BI reports and dashboards to anyone, anywhere. It's especially useful to professionals who need to:
send or receive regular updates on the most recent business intelligence data, wherever they are;
broadcast BI data on a large screen without a dedicated computer, such as a smart TV or a large videowall;
share data from a Power BI account they manage with several other users – even those outside their organization;
manage a business with several areas and need to recurrently send diverse Power BI metrics to different middle managers
If you haven't tried PowerBI Robots yet, click here to register for the trial version and download the desktop agent. Despite its limitations, this trial gives you an idea of the impact a report automation tool has on an organization.
Without further ado, let's focus on the matter at hand:
How to send Power BI reports and dashboards by email
After installing and setting up the PowerBI Robots desktop agent, go to the web agent and click Create on the Playlist option in the menu. A playlist is a set of Power BI reports or dashboards, grouped to be sent somewhere, in our case, by email.
Then, on the General tab, you should:
name the playlist.
choose the screenshot output format (image, or single or multiple PDF files).
set the screen size.
set the screen-captures recurrence (i.e. your data's refresh rate).
select Email on the Send to.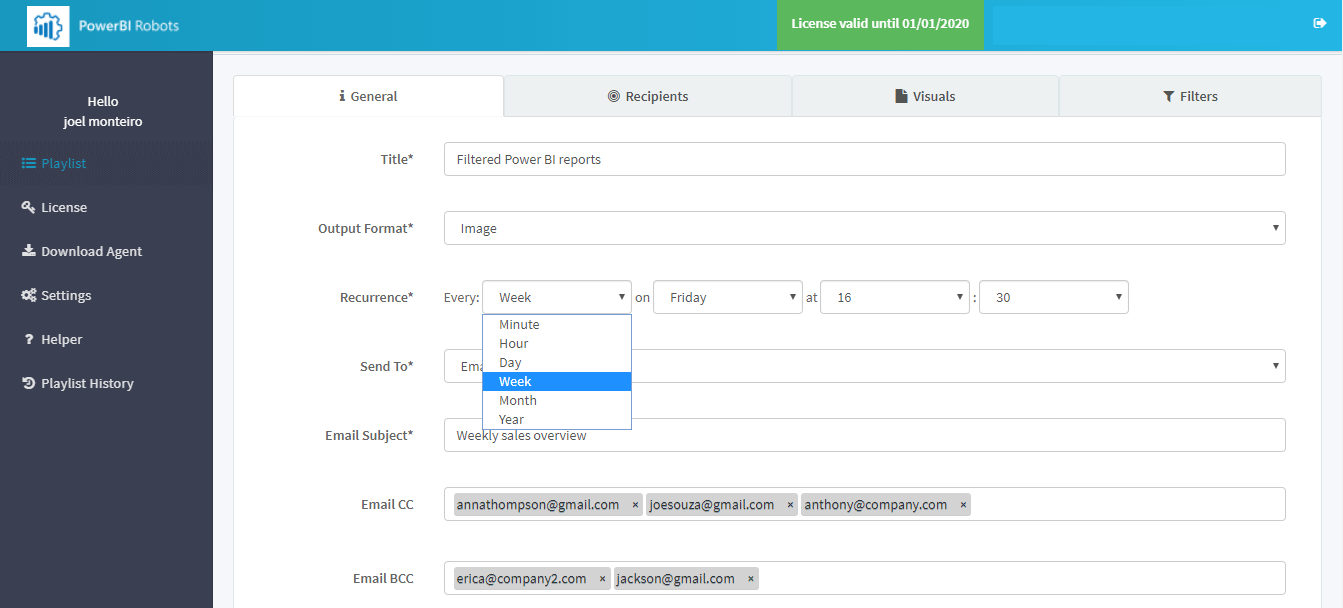 Customizing your email's message
When it comes to the email's message, PowerBI Robots allows for a lot of customization. In fact, almost as much as sending it from a dedicated email client. In the top menu, you have the most commonly used options at your disposal to make your emails feel unique.

The Token feature comes in handy if you need to send emails frequently and to a large number of people. To use it, click the pound (#) sign from the menu. By selecting a token from the list, you're ensuring these fields are always updated, making your emails feel fresh. Tokens are super elastic and versatile elements that greatly improve your messages and filters. If you wish to learn all about tokens in PowerBI Robots, we have a tutorial on the different ways you can use them to improve your report automation.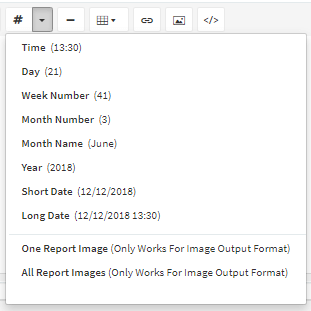 In addition, you can give the HTML editor a shot if you're looking for even more customization. Click the XML icon on the menu (</>), and anything written in your email will get instantly converted to HTML:

Adding recipients and visuals to your playlist
Afterward, proceed to the Recipients tab to add the email accounts you wish to send your Power BI reports to. Click the plus sign to add an individual email, or the next button to bulk import destinations. You can add as many data recipients as you wish.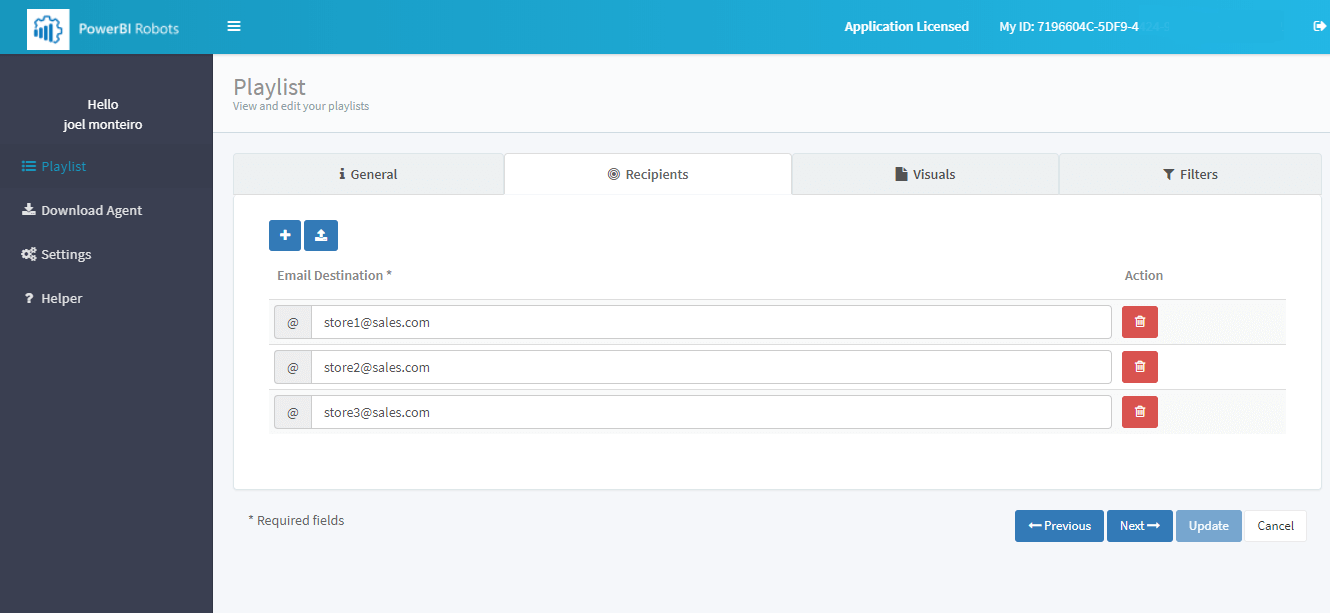 Selecting the reports, dashboards, or visuals for your automatic playlist
Once you're done selecting your recipients, hit "next" and proceed to the Visuals tab. Click Add Power BI account to make a screen displaying your Power BI workspaces pop-up. You may see all reports, dashboards, and visuals contained on each by clicking the plus sign.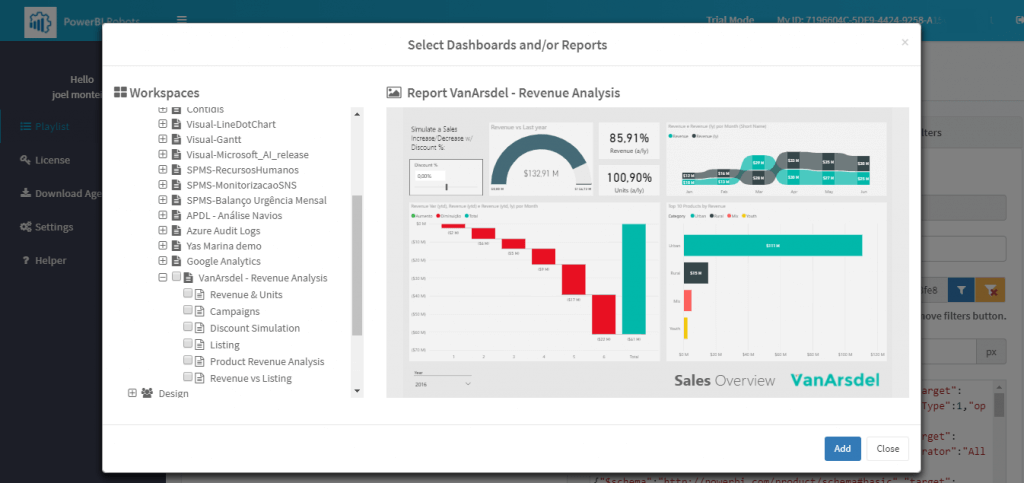 Next, you must select the report pages and individual tiles you wish to send by checking their boxes (alternatively, select them all). Afterward, go to the last tab if you wish to apply individual filters to your reports. This is especially useful when you wish to send different data to different people from the same Power BI report. Finally, click Create to finish your playlist.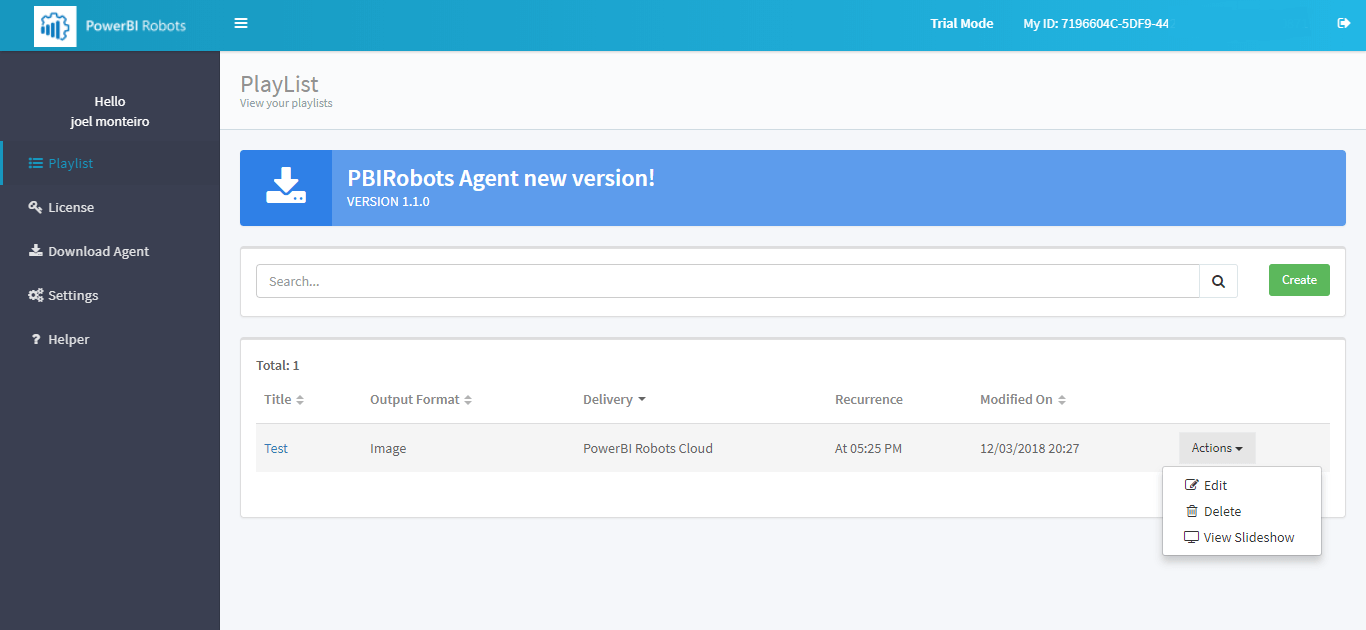 Lastly, open the PowerBI Robots desktop agent and hit Synchronize on the General tab.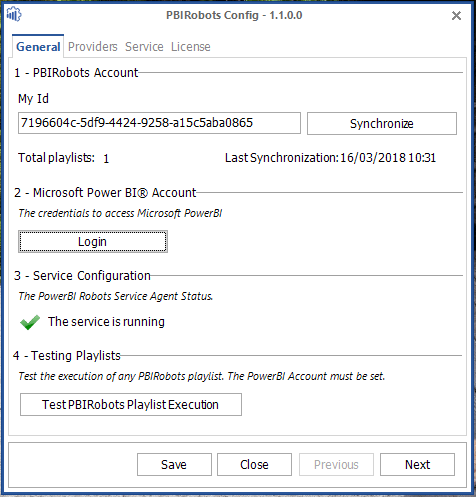 Congratulations, your newly created playlist will be delivered to all your recipients by email!
You can try PowerBI Robots for free by clicking here, registering, and downloading the desktop agent. When you're ready to upgrade to the full version, a 1-year PowerBI Robots license is enough for company-wide use and is available for only 899€. 
If you're having any trouble installing and configuring the PowerBI Robots desktop agent, please see point 2 of our PowerBI Robots 101. If you still have any questions, please send us an email at [email protected].