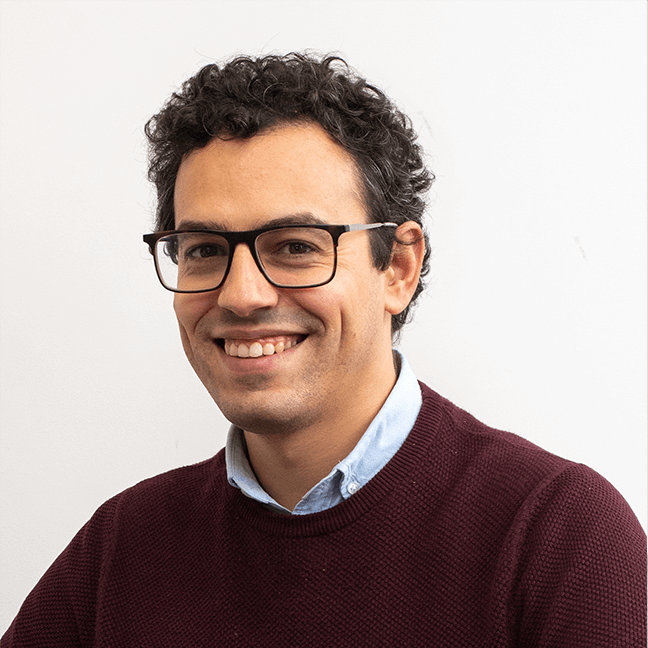 In the wake of the new coronavirus (COVID-19) outbreak, many companies are enabling their employees to work from home. We've been doing exactly that at DevScope, with most of our collaborators working remotely to minimize the risk of contagion.
Microsoft is lending a hand during the outbreak by offering a 6-month license of Office 365 E1 to all companies who must enable remote work to keep operating. This version of Office 365 includes Microsoft Teams, the collaborative work platform to end all collaborative work platforms. Since we are a Microsoft Partner, we joined them by volunteering a 1-hour remote consult to help companies implement it. If you wish to take advantage of this offer, click here and fill the form.
Besides planning and coordination, organizations need the right tools to enable employees to work remotely without losing productivity. At DevScope, Microsoft Teams started as a Skype replacement, but quickly became the core of our teams and their projects. One example is the Sogrape's intranet project, which was entirely managed using Microsoft Teams. Our team and the client didn't exchange a single email throughout that entire project.
If your company is starting to use Teams, you might be surprised to learn that it has its App Store. You can find hundreds of bite-sized versions of your favorite applications here, as well as some exclusive apps. To help you get started, we picked our favorite Microsoft Teams apps for remote work. Take a look below.
The top Microsoft Teams apps for remote work
In general terms, Polly allows you to put polls inside your Teams channels, giving members a quick way to vote. Despite its unassuming look, Polly is quite the powerhouse, allowing for some advanced stuff when it comes to running polls. Among others, Polly lets you schedule polls, ask single, multiple, open choice and agree/disagree questions, and even lets users answer through a rating system. There's also the option to delay results, and to give your audience the option to answer anonymously. Polly is quite robust, and the Microsoft Forms app for Teams should take a few notes from it. We use Forms all the time, but its current version for Teams only lets you conduct polls with one or multiple answers.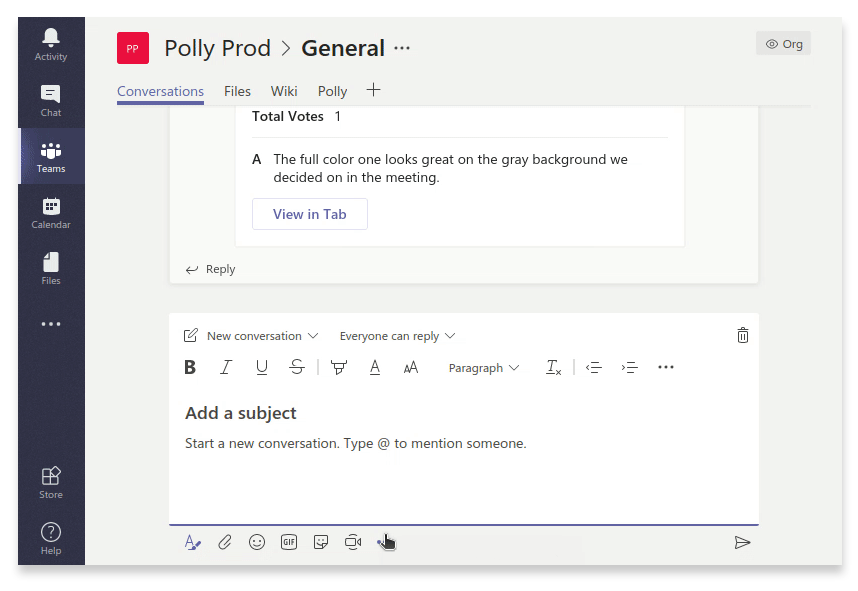 Native for Office 365 and most likely included in your subscription, Microsoft Planner is a great project management app. Planner lets you manage team activities, track workflows, and organize ideas using boards. You can add tasks below each board and steps inside those tasks like a to-do list. You can also invite colleagues within your organization to join your tasks directly from the app. Planner is very complete and lets you track your work, your team's progress, receive notifications by email, and stay on top of what your team needs to do. Planner comes with its own calendar and basic analytics that tracks progress, priority and team members. We can't recommend it enough.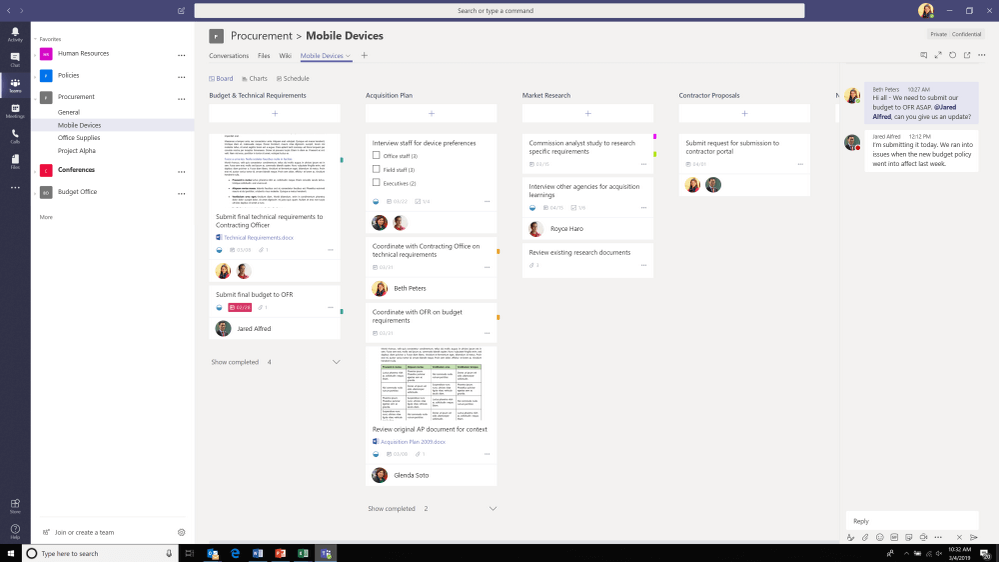 Freehand is an infinite collaborative whiteboard that anyone in your team can use in real-time. A spin-off of the beefier InVision design platform, Freehand provides tools such as draw, write, sketch, and comment so the whole team can contribute to the design process. Because each team member has a unique identifier, you know where the contribution (or the funny doodles) came from. Freehand is great for wireframing, planning, designing apps and website interfaces, and giving feedback on all of them.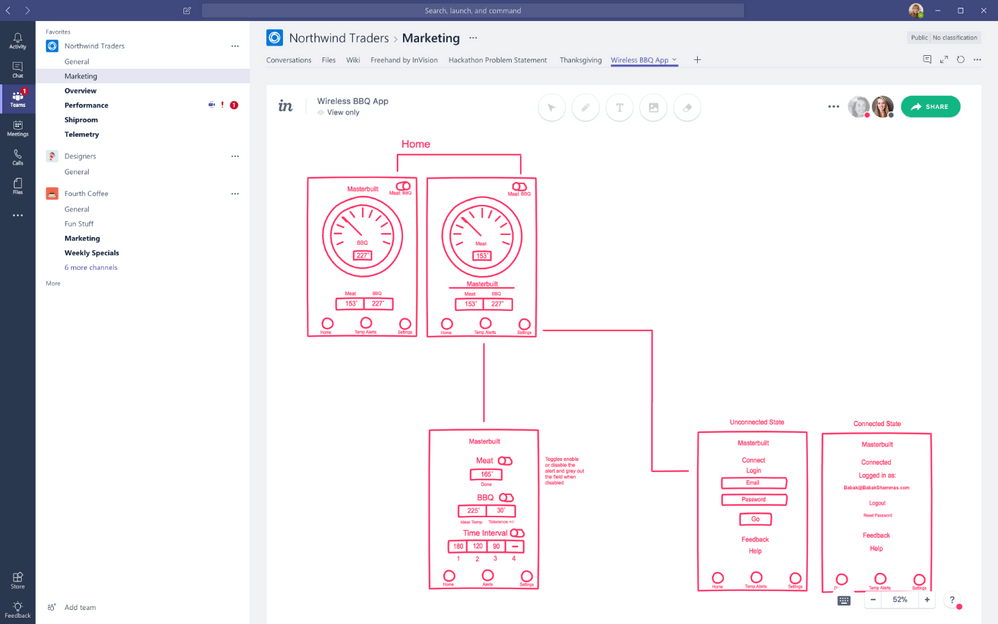 Describing Lucidchart as a visual thinking tool for teams doesn't really do it justice. Lucidchart allows team members to collaborate on flowcharts, ERDs, BPMN, wireframes, frameworks; you name it. All of this in real-time, and with multiple people working on the same document. If you use Visio like us, Lucidchart lets you import your VSD files to resume work and export them using that extension. Finally, we must point out that Lucidchart seamlessly integrates with the most used productivity tools out there.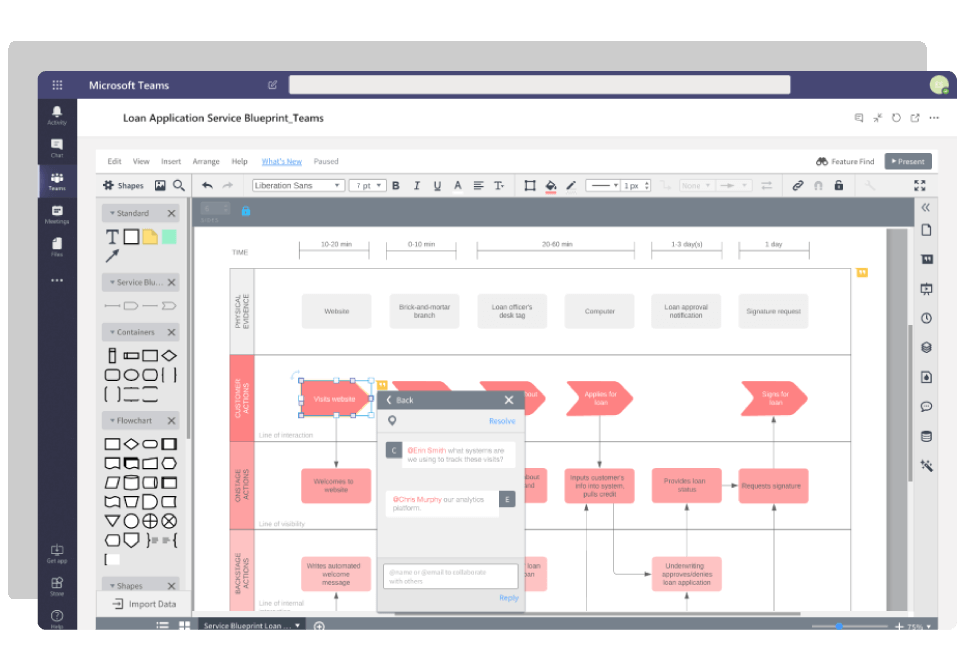 Do you have an idea and need help developing it? You could probably use a mind map. If you're not familiar with the concept, a mind map is a diagram for visualizing and organizing information that displays the relationships between pieces that make up the whole. Mindmeister brings that concept to Teams in a collaborative way, allowing every member of your team to contribute to a mind map. This is great to study the implementation and rollout of new features for a product, for example. You can also use it to map a website or app structure.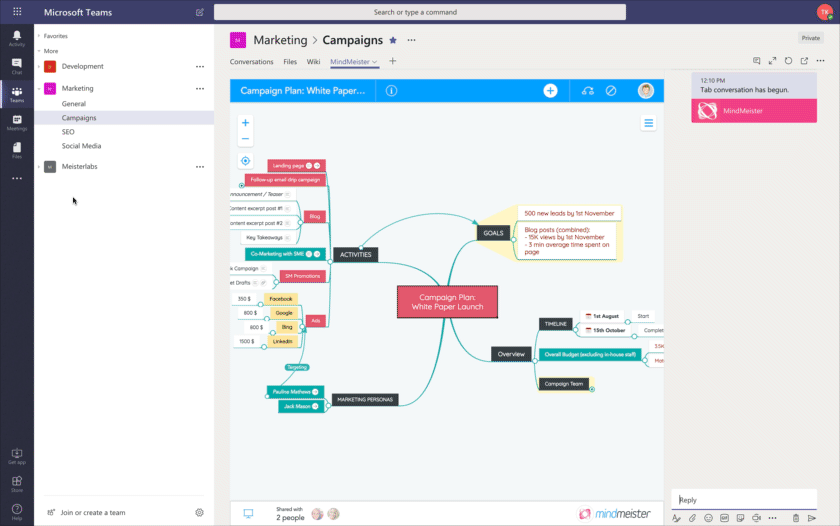 We hope you find our favorite Microsoft Teams apps for remote work as useful as we do.
If you're looking to implement remote working at your company to reduce the risk of Covid-19 contagion, you should consider taking Microsoft's offer and see how it goes before committing. As previously mentioned, we are offering a 1-hour remote consult to help any company that wishes to implement it. Just click this link and fill out the form.